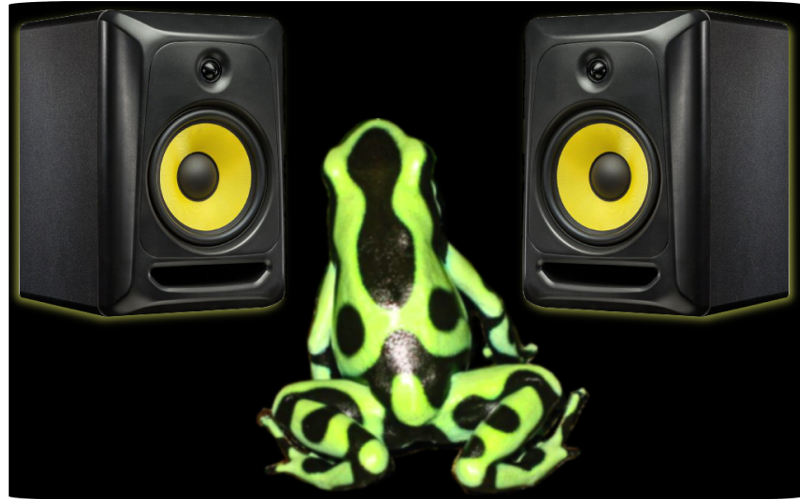 Welcome to our latest update from the electronic music underground! We have a bit of a frog-flavoured theme this month, in order to celebrate a new demo from Voxel Records resident producer Maze Car. as ever, we also bring you a short playlist containing three more great tracks we discovered in the internet during the month of March.
The Maze Car demo currently goes under the working title Dub Croaky, and for a limited time you can download it for FREE at SoundCloud! This experiment combines some abrasive 8-bit tones with shuffling grooves and thick deep bass. It's an epic journey that builds from basic beats into a trancey glitch-house workout – we hope you enjoy it!
First on the playlist for March is Trouble In My Head by Human Skills. This is the only track we found by this brand new, box-fresh band from somewhere in the USA. Launching into an up-tempo rhythm, the bendy, echoing synth motif takes the lead before the crystal clear vocals burst through like a shaft of light through an otherwise lo-fi mix. The wall of synth lines eventually gives way to a clean guitar solo and middle-8 (in true indie style), and there is enough freshness and familiarity to this music for it to find a home with all fans of indie synth pop. If this track serves to demonstrate their potential, we are expecting great things from Human Skills.
Having been available for two years, Rive Gauche by Carlini is not quite as new, but we are glad we found it. A slow, bouncy introduction with acoustic funk feel plays on before the piercing timbres of zither and thin synths form the true mood of the track.  The deep groove and the subtle bubbling of the bass mooch along until a neatly-etched passage of poetry finally plays the track out. This is a moody melting pot of influences that would be well received by any lovers of retro movie scores and Air.
Finally, we have Images With a Heartbeat by LA producer Hermetik. We are always pleased to discover a pioneering genre as we wander the internet in search of music, and this example of drill and bass introduces a new take on DnB. A simple hi-tempo synth arpeggio kicks off before the percussion takes control with a rigid, robotic jungle vibe. After a half-tempo breakdown, dark and dirty pads ebb and flow beneath the drums until more machine-edged synth motifs limp in and out of the mix. Make way for new wave industrial drum and bass!
[soundcloud url="https://api.soundcloud.com/playlists/209202042″ params="auto_play=false&hide_related=false&show_comments=true&show_user=true&show_reposts=false&visual=true" width="100%" height="450″ iframe="true" /]