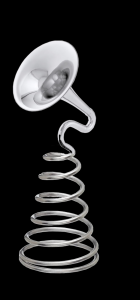 This month sees us waving goodbye to a season, a financial year and a relationship with our neighbouring continent. It's been a hard search for new music, but we've managed to find some mellow tunes for the spring time to help us chill out in the longer evenings, whilst remembering that it's still dark in the morning for a while yet … !
First on this month's play list is Reaction by the Australian synth pop pairing of Amos and Emily. The track opens with a gentle filter which slowly reveals the soft velvet of Emily's vocal. A complex backing arrangement of fizzing pads, keys, and sticky bass complements the simplicity of the singing, and opportune drops are bridged by subtle well placed motifs. This is a well crafted arrangement which you might find yourself whistling to.
Meanwhile, on the other side of the world, New Yorker Philosofie entices us with her mellow Flavors. Soulful trills of percussion meander with crisp, subtly filtered vocal droplets, and lounge rhythms prod and sway subtly under a skillful composition of simple arps and keys. The whole package well produced, and brings to mind butterflies and blossom floating out of sonic hibernation, so this is something for the dreamy.
Finally, we found No Desire To Wake Up from Russian producer Vodiche's current album The Tunnel. The dark mood of the track is indeed reminiscent  of underground passageways as the simple, clean particles of sound glint and sparkle across the stereo image. Combined with the anchor of no-frills acoustic drum textures, this is definitely one for fans of Orbital or other moody IDM.
[soundcloud url="https://api.soundcloud.com/playlists/311594025″ params="auto_play=false&hide_related=false&show_comments=true&show_user=true&show_reposts=false&visual=true" width="100%" height="450″ iframe="true" /]